Tightly plotted and intelligent | Science and Suspense | Eerie Spirits and Visions | Action-Packed Thrills | Slow Burn Romance
BOOKS BY CAROL POTENZA
The Nicky Matthews Mystery Series
Hearts of the Missing
The Tony Hillerman Prize winning first book in the Nicky Matthews Mystery series. Members of the Fire-Sky Pueblo have gone missing, but no one seems to notice except a young woman who turns up dead in an apparent suicide. Pueblo Police Sergeant Nicky Matthews is assigned to the case and pressured by her superiors to close it quickly. But as Nicky's investigation deepens, she discovers that the young woman and the Pueblo's missing were targeted for murder—hunted because of their ancestry and genetics. With a hostile captain, interference by a politically powerful ex-lover, and a burgeoning relationship with one of the undercover agents, Nicky doesn't know who she can trust.
The Third Warrior
Ancient prophecies and a stalking death. "They say the chief decided to approach this god of death and fire and called for volunteers. They say four brave warriors stepped forward to run into the fire. No one knew the warriors would return alive." Three brothers who coveted the title of sacred fetish carver are dead. Is it murder? Or did the vengeful spirit of the god of death and fire require their sacrifice? A vulnerable young boy is the only one left to inherit. Can Fire-Sky Pueblo Police Sergeant Nicky Matthews protect him? With the tension, heat, and body count rising, Nicky's actions take a reckless and dangerous turn, driven by elements outside of her control.
Spirit Daughters
A treasure beyond value. Her mother's life on the line. When a murder victim falls out of a closet at Police Sergeant Nicky Matthews' feet, her investigation leads her to a powerful tribal fertility medicine. What Nicky keeps secret is that this medicine was once at the center of her father's scientific research. He'd isolated the single most-important compound in a fertility treatment worth a fortune … and worth killing for. But when her father vanished, the identity and location of the plant that produced this compound was lost. Or was it? Nicky's archeologist mother may hold the key to the plant's rediscovery which makes her the target of the desperate killers.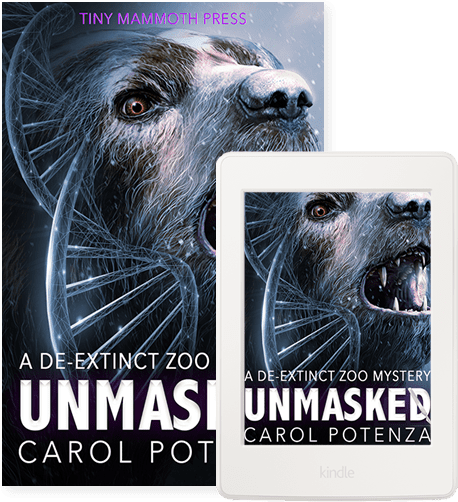 A De-Extinct Zoo Mystery
UNMASKED
Catch the Killer, Save the Bear. Veterinarian Milly Smith is living her dream, working in a zoo populated by de-extinct creatures resurrected from ancient DNA: Mammoths and mastodons, dire wolves and do-dos, camelops and saber-toothed cats. But a routine surgery on a massive short-faced bear goes horribly wrong and a colleague is dead. The bear is slated to be destroyed unless Milly can prove the animal was used by a diabolical killer as a murder weapon. A killer whose attention has turned to Milly.
Hi, I'm Carol Potenza.
I live in southern New Mexico with my husband, Leos, and our extremely grumpy chihuahua, Hermès. I love my adopted state and the desert southwest. It's beautiful, and its strong multicultural history has been shaped by diverse peoples and cultures. Las Cruces sits nestled at the bottom of the Organ Mountains to the east and the Rio Grande to the west. It is the second largest city in the state, but has a wonderful small town feeling, and every fall, the scent of roasting green chile fills the air. I have a Ph.D. in biomedical sciences from UC San Diego and worked in a plant genetic engineering laboratory at New Mexico State University for years before I moved to full time teaching—Molecular Biology and Biochemistry.
The paranormal and "visions" I add to some of my books come from true stories told to me by relatives and friends who experienced them first hand—and their words can be hair-raising. I knew as I listened, I'd need to write them down and blend them into my fiction because I love that shivery feeling. I myself am not sensitive, except for one time. Ask me about it if we ever meet. I love to blend strong women sleuths, paranormal, and mystery with science to create my BiocheMysteries. I hope you will enjoy my stories.
WHAT PEOPLE ARE SAYING ABOUT CAROL POTENZA
Endorsements and Testimonials
RECENT POSTS FROM CAROL POTENZA
Blog Post Feed
I've been writing and publishing, thus avoiding social media and criminally ducking my website duties. I feel guilty about that, but made great progress on the fourth Nicky Matthews Mystery (Sacred Ghosts) and the next De-Extinct Zoo Mystery (Ambushed). Update 1: Signs: A De-Extinct Zoo …
We'll follow Demystifying the Beats and write a mystery What made someone who'd only written scientific papers and grants want to write fiction? (That would be me) An eReader for Christmas. This gift from my sisters-in-law was amazing. It allowed me to take dozens in not hundreds of books …
I'm going to copy paste the write-up up from the wonderful Charlotte Zimmerman who coordinates the Mesilla Valley Readers of Southern New Mexico Book Club BUT this is actually an international book club with members from all over the world because they use Zoom for their presentations, as well …